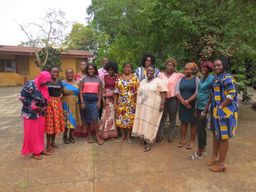 Media Matters for Women
Project Coordinator of MMW-SL
Florence Sesay, MMW-SL Executive Director, is a Sierra Leonean journalist and broadcaster who heads our SL operations. She was chosen in 2021 to serve as a member of the UN Spotlight Initiative Civil Society-Regional Reference Group, a significant honor for both Florence and MMW. She also won the "2021 B-Peace International Mentors Award". She previously served in the Office of The First Lady of Sierra Leone, heading the advocacy on the reduction of maternal and infant mortality with support from UNFPA since 2009. Florence began her career at Cotton Tree News where she was head of the Women's Magazine, producing and presenting programs on women's health, participation in governance, and agriculture.
Senior Journalists of MMW-SL
Alinah Oliet Kallon is an award winning broadcast journalist and producer based in Makeni, she is our head journalist for the Bombali district and the producer for our radio show, "Mamie and Omo". Her career took off in 2006 when she was selected to be one of nine journalists who formed the core team of Cotton Tree News, a nation-wide media project funded by several European countries and located at the University of Sierra Leone. Her work has been recognised by UNICEF and BBC World Service Trust. She has a degree in Mass Communication (Honours) from the University of Sierra Leone. She was awarded the "Chancellor's Leadership Award" and also the United Bank for Africa's "Africa Trail Blazer Award."
Ndeamoh Mansaray is an experienced broadcast journalist based in Waterloo, with recognised achievements in radio programming targeting women and girls, including our innovative "Mamie and Omo" radio drama series. She began her radio career at Cotton Tree News, the largest public service media project in post-war Sierra Leone, and continued her work while earning her degree in Mass Communications from the University of Sierra Leone. Ndeamoh was selected by UN Women to travel to Addis Ababa to participate in negotiations on the Sustainable Development Goals as the only civil society representative from Sierra Leone. She is a member of Women in Media Sierra Leone and the Sierra Leone Association of Journalists.
Zainab Sheriff is a senior journalist based in Kenema. She gained her Teacher's Certificate at the Eastern Polytechnic University in Kenema and has been a reporter for Gola Agricultural Radio Station since 2016. She recently attended courses in women's leadership and the Independent Media Commission's training on "Code of Conduct for Reporting." She speaks Mende, Krio and English. Zainab goes above and beyond in her work as a journalist and helps in cases of rape and violence against women in areas all over the Eastern region.
Administrative Staff
Diana Allen, holds a Bachelors degree in Business Administration from Institute of Public Administration and Management (IPAM), Freetown. She has developed her career as a Monitoring and Evaluations officer, including the Directorate of Policy, Planning and Information, the Ministry of Health and Sanitation, and the Connaught Hospital. She has also studied at the College of Medicine and AMREF Kenya. In February of 2018 she started working as the Monitoring and Evaluations officer with MMW and works closely with staff to ensure data is collected and accurately reported and evaluated. She also has a keen interest in baking and reading.
Josephine Isha Kamara, a Freetown native, received her Higher Teachers' Certificate in Business Studies from the Milton Margai College of Education and Technology. She worked as a Broadcaster at the Believers Broadcasting Network (BBN) in Freetown, where she initiated a program called "TACKLE" focusing on human rights issues and challenges faced by young Sierra Leoneans. In 2019 she worked with a human rights reporting newspaper, Newswatch, where she worked as a reporter and on marketing. In November 2019, she started working for MMW where she works as a Community Liaison Officer and Assistant to the Executive Director.
Board Members of MMW-SL
Board Chair and Co-Chair
Mariama Khai Fornah is a Sierra Leonean journalist, gender activist, radio producer, radio presenter, radio mentor and reporter. She currently works as the Communication and Research Manager for the African Development Bank-sponsored project "TVET Image Campaign." Mariama previously worked as a Radio Mentor/Reporter at BBC World Service Trust as well as Radio Producer and Program Manager at BBC Media Action Sierra Leone where she produced a program to support cocoa farming in Sierra Leone and contributed to BBC Media Action's dedicated program on Ebola – "Kick Ebola Nar Salone."
Yeama Thompson is the Co-Founder and Executive Director of Initiatives for Media Development, owner of the Spectrum Newspaper, and Board Member of the Innovations for Governance Reform in Sierra Leone. She serves as Communication Strategist Consultant with the Open Government Partnership in Sierra Leone. Yeama rose through the ranks from a cub-reporter at the Sierra Leone Daily Mail to Editor of The Chronicle newspaper, producing a radio program focused on women and children. She implemented a human rights reporting strategy in 2012 which contributed to peaceful elections as Country Director of Journalists for Human Rights; and launched a training initiative for female media executives working closely with the Women in Media Sierra Leone (WIMSAL), BBC Media Action and Journalists for Human Rights.
MMW-SL Board Members
Mariama Dumbuya is a barrister and solicitor, her experience includes extensive pro bono work all over the world. She was the president of L.A.W.Y.E.R.S., a Sierra Leonean organization that promotes and protects the legal rights of women. She has organized programs to protect the rights of women and girls and has worked on laws promoting gender equality and addressing FGM. She has been appointed by the African Union to serve as Election Observer during national and run-off elections in both Liberia and Mauritania. She holds law degrees from De Monfort University, Sierra Leone Law School, and Fourah Bay College.
Clementina Akran is a Data Scientist at Statistic Sierra Leone (Stats SL) heads the Open Data and Visualisation Section in the Data Science Division. She serves as the Sierra Leone enhanced General Data Dissemination System (e-GDDS) Coordinator, Focal person – United Nations Statistical Commission Working Group on Open Data, Stats Sierra Leone Data Selection Editor, Co-chair the Open Data Council of Sierra Leone and COVID-19 Ambassador, "Corona Fet Ambassador". Credible data saves lives!
Zainab Clarkson is a Senior Development Consultant and Gender Specialist with strong expertise in organizational development and results-based management. She is the Founder and Executive Director of Wheels for Humanity Sierra Leone, the co-founder of Salone Business Women's Hub and the Director of Growth Access Solutions Sierra Leone. She has consulted for the International Finance Corporation, Oxfam, African Union and ECOWAS Election Observation Team. Zainab is a strong advocate for Women and Children Rights and a recognised expert in diversity issues and organisational development. Zainab is the Women's Entrepreneurship Day (WED) Country Ambassador for Sierra Leone.
Dr. Hon. Rev. Marie Jalloh holds a Doctorate degree in Philosophy Education, a Master's in Agricultural Extension and Rural Sociology and over two decades of experience in government as Deputy Minister in the Ministry of Agriculture and as a Member of Parliament where she served as the Chairperson for the Committee on HIV/AIDs. She has consulted on issues of gender, community development, and food commodities. As Deputy Minister, Dr. Jalloh is responsible for the development of all agricultural programs in the country as well as the government's 5-year strategy for gender mainstreaming in agriculture which has integrated women into large-scale farming.
International Advisory Board
MMW Board Chairs
Lisa Farley Sebree is Co-Chair of the MMW-UK Board of Trustees and Co-Chair of the MMW International Advisory Board. She received her degree in Business Administration from the University of Kansas and her law degree from Georgetown University. Her career as a lawyer has ranged from criminal defense work to commercial matters to import/export law. As in-house counsel for a multinational telecommunications corporation, she had global responsibility for international trade issues. More recently, Lisa worked with ECPAT International to produce its Global Legal Review on Sexual Exploitation of Children Online, a comprehensive tool for prosecutors and human rights activists worldwide.
Ellen B. Marshall is a member of the International Advisory Board of Media Matters for Women. Ellen is a legislative advocate with over 30 years experience representing clients before federal, state, and local governments. While her Washington, DC-based practice focuses primarily on tax and financial services issues, Ms. Marshall also has extensive lobbying experience in real estate, bankruptcy, and electronic commerce concerns and has written extensively on issues involving municipal finance. Ms. Marshall has staffed presidential election campaigns and is adept at translating technical issues into straightforward talking points for legislators and voters.
Advisory Board Chair MMW-United Kingdom
Sharon Bylenga (Founder) was inspired to set up MMW whilst working for an INGO building public radio stations in post-conflict and crisis zones. She found that mobile phones and solar chargers are highly effective and significantly less costly in meeting the information needs of Africa's rural women and girls. Sharon earned her master's in agricultural economics and has extensive experience in Eastern Europe, Western and Southern Africa. She also served with the U.S. Foreign Agricultural Service for ten years.
Muaz Cisse is an experienced leader in information technology, including eight years heading the implementation of complex IT infrastructures for Fondation Hirondelle, a global nonprofit which partners with the UN to build nation-wide media projects in Africa. Muaz earned his master's from the University of Fribourg in Switzerland. He recently joined New Access, Geneva. He aims to use his IT expertise to effectively lead in the revitalization of his continent and promote sustainable development.
Katie Faulds is a Principal Consultant at Crasner Consulting, focusing on legal search and management consultant. In parallel, she works as a Vice President within Crasner Capital, a boutique investment bank. Katie is a passionate philanthropist and advocate of women's rights and empowerment and of diversity and inclusion. She chair's the active women's groups within Crasner. Katie speaks English, German and Spanish. She holds a first class honors degree in International Business with modern languages.
Jennifer Forker is the Director of Communications at Regis University. She was a journalist for 20 years, working at daily newspapers and as a freelance writer for The Associated Press for more than a decade. She has written for The Boston Globe, Alaska magazine and AOL.com. Jennifer received a Master of Divinity from the Iliff School of Theology in Denver and a Bachelor of Science degree in Journalism from the University of Kansas in Lawrence.
Leah Jewett Royall is a writer, editor and the founder of Outspoken Sex Ed, a social enterprise focused on encouraging parents to talk openly with their children about sex and relationships issues. Leah studied at Columbia University and for 20 years was Deputy Chief Sub-Editor on the Observer Magazine of The Guardian. She founded and directs Outspoken Sex Ed.
Anton Mifsud-Bonnici is a Maltese national with 25 years of international political experience including independent corporate relations and advocacy. He served with the United Nations High Commissioner for Refugees in the Balkans and Great Lakes. Previously he served as Vice President for Communications & External Affairs of BP, London, Russian Federation and Iraq, and Project Manager of the Trans Adriatic Pipeline Project, Greece, Italy and Albania.
Gaimin Nonyane is an experienced economist with extensive experience in emerging and frontier markets. She is an experienced leader with a strong focus on building effective teams and strong customer relationships and communication skills. Gaimin is currently Director at K-Frontiers Solutions Ltd and holds a master's degree in International Economics and Policy and an honours degree in Economic Studies with Law.
Delia Perez-Paya helped found MMW, she has extensive experience in global business and is a recognized leader in the field of corporate transformation. She earned a master's degree in Economics from the European University in Bruges. She began her career with Accenture going on to work as the Vice President of Sales and Marketing with oversight for Commercial excellence for Lafarge. She currently works at Etex in Global Pricing and Sales Excellence. Delia speaks four languages and lives in Paris with her husband and two young daughters.
Katharina Samara-Wickrama helped found MMW, she is currently the Director of the Issues Affecting Women programme of Oak Foundation. Katharina is a trained lawyer with over 25 years of experience working in the humanitarian and development sector. She worked with the UNHCR in the Refugee Women and Gender Equality Unit. Katharina has worked on prevention and responses to sexual exploitation of beneficiaries and maintaining accountability to communities affected by disasters and crises.
Greg Saunders is a seasoned international policy practitioner with more than 30 years of experience in Africa, the Middle East, Asia and Washington, DC. After a 26-year career in the US Army, Greg worked for BP as Head of communications and external affairs in North Africa and then headed BP's international team in Washington, DC. He graduated from US Military Academy and from the French Ecole de Guerre in Paris. He has an MBA from George Washington University and an MA in International Relations from the Naval Postgraduate School.
Suzanne Spears specializes in international disputes and Business and Human Rights law. She has handled disputes involving Africa, the energy and natural resource industries and human rights. She has worked for international human rights and foreign relations organisations, including the UN, the Inter-American Institute for Human Rights and the Council on Foreign Relations. She is an Adjunct Associate Professor of Law at University of Notre Dame in London, where she teaches International Arbitration and Business and Human Rights.
Liz Umlas helped found MMW, she is an independent researcher and consultant with extensive experience in the field of business and human rights, and a particular interest in labor rights issues. She was a senior analyst in socially responsible investment research, and has worked for Oxfam America and UNHCR. She is a co-founder of Sustainable Finance Geneva, and has designed and taught masters courses in business and human rights at the University of Fribourg and Oxford University. Liz has a doctorate in political science from Yale University.
MMW Interns
Jasmine Adams (2021) worked with us at the start of our projects on SGBV and safe elections, she put together fact sheets and reports on these topics based on information from Sierra Leone for us to use.
Rachel Berman (2020) studied Illustration and Graphic Design at the University of Edinburgh. She assisted in consolidating our descriptions into a "Tool-Kit" for those interested in implementing our concept elsewhere.
Liz Cooper (2020) graduated South Florida University. She used her graphic skills to create digital presentations for our most popular podcasts: Wamama Tujenge and Mamie and Omo.
Madeline MacKenzie (2022) studied Product Design & Technology at Loughborough University. She traveled to Sierra Leone, where she trained our staff members in IT skills, she also helped us with continuing our Period Power Project.
Saumya Sinha (2020) is a graduate of University of Washington where she majored in Psychology. She developed our Period Power Project, she designed the graphics and wrote instructions for young girls to learn how to sew pads.
Anna Sebree (2020) is a recent graduate from Syracuse University where she studied Political Science and Policy Studies. She worked closely with our Community Liasion, Josephine, on our social media plan and strategy.
Jenssen Sebree (2021) worked on extending our social media coverage and strategy by connecting with other organisations and partners across our platforms to enable use to reach a wider audience.
Nathan Sebree (2019 & 2020) is a University of Washington graduate where he studied Foreign Policy. He documented his trip to Sierra Leone, bringing valuable stories and pictures from Sierra Leone to to global stage.
Jane Thurow (2018) studied Communications at Carthage College. She was MMW's first intern, she reported on the amazing work that each of the journalists are doing from her trip to Sierra Leone.